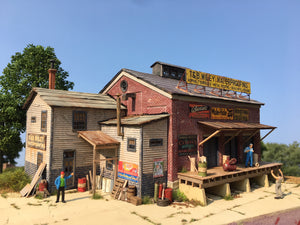 T & B Wiley Waterproofing - this is a medium sized, light industrial business that will fit in easily in any town or city, with or without a railroad siding. This multi material kit features both hydrocal brick walls and laser cut clapboard walls. Kit also includes all the color signs as shown, metal detail parts, Tichy plastic windows and doors, laser cut roof cards and detailed assembly instructions.
Footprint: 6.5" x 8" 
Vehicles, figures and scenery not included.