About Us
CONTACT INFO:
Email: fosscalemodels@gmail.com

Phone 
Mail: PO Box 213 Jewett City, CT 06351-0213
______________________________________________________________________
We have been producing model railroad structure kits since 2002, starting with the release of Big Lou's Grill. Since then we have strived to live up to that unique little kit, by offering original, uncommon designs. Our own laser cut precision parts, and in-house metal cast detail parts; along with plastic architectural parts from Tichy and wood from Northeastern Scale Lumber.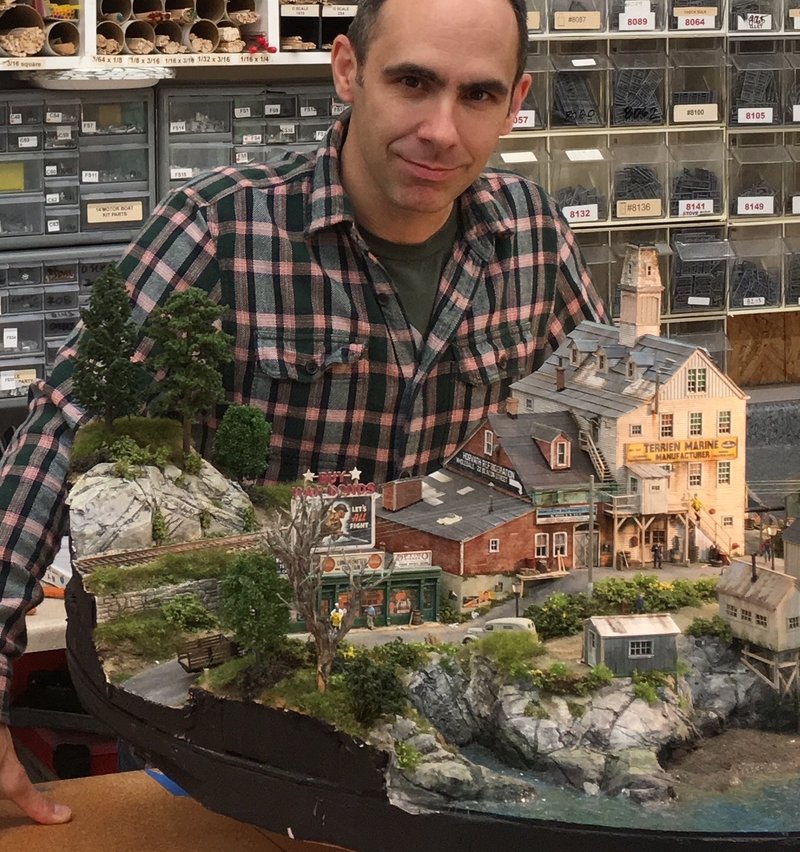 Fos Scale Models is owned and operated by Doug Foscale. Doug was born and raised in New York City and followed an art education in architecture and graphic design. Doug now lives in Connecticut with his wife Amy and their three horses.
The Fos Scale Models studio is located in South East Connecticut.  We often hold workshops to share our techniques of model building, weathering and detailing. Check back often for the next workshop.
Timeline:
2002 - Fos Scale Models is started, with Big Lou's Grill; a small HO Scale kit, manufacturing it in an apartment kitchen.
2004 - Our boxing kit JJ Hollender's is released. 
2005 - Fos Scale Models leaves NY for Connecticut.
2007 - Along with friend Jimmy Deignan, the Craftsman Structure Show is started.
2011 - The Craftsman Structure Show is transformed into the Model Railroad Expo, debuting in Peabody, MA.
2012 - The Limited Run Kit , Red Hook Wharf is released.
2014- Modeling and weathering clinics start at the Fos Workshop.
2016 - We relocate our workshop to Stonington, CT.
2017 - Our shop moves again, along with our home and horses in one location, in SouthEastern CT. We also start Diorama Blitz, a 1/35th Scale line of military diorama kits.
2018 - We acquire the high quality line of Hydrocal kits originally created by Ed Fulasz and then produced by Railroad Kits.
2019 - Fos Scale Models starts our Kit of the Month subscription series.
Limited Run Kit List
BIG LOU'S                        2002
RED BIRD TAXI                 2003
HARRINGTON'S BAR & ENZO'S PIZZA             2003
DRAKE THEATER & NAUTLIUS DINER              2004
CALDWELL JUNCTION                                      2005
DEGRAW POULTRY                                            2006
LUDLOW BUILDING                                            2007
HT GORDON'S BRASIERES                                2008
CANAL STREET & THIRD                                    2009
GARMENT DISTRICT                                           2010
MAGIC SHOP                                                       2010
SALT NECK HARBOR                                           2011
RED HOOK WHARF                                              2012
EXECUTION ROCKS                                            2013
OYSTER HILL                                                       2014
PRINTERS ROW                                                   2015
BANDIT'S ROOST                                                 2016
DEAD HORSE BAY                                                2017
THE TERMINAL                                                     2018
RUST ROCK FALLS                                              2019
ATLAS GORGE                                                      2020
FLAT IRON DISTRICT                                            2021
AXLE ROAD                                                           2022
PELICAN ROCK                                                    2023