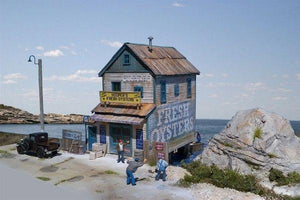 This is an HO Scale Oyster business, built a on a small pier. Kit features laser cut walls, corrugated metal roofing throughout, Tichy plastic windows and doors, vintage color signage, metal details parts and rigging line. Also includes (1) ONE small oyster skiff/ mini barge as shown in photos.

All color signs shown plus additional signage if you choose to model it as a hardware store. Also includes sidewalk section for the hardware store version. Easy to build pier features pre cut holes for dowels (pilings).

Structure Footprint: 3" x 5"
Mini Barge: 1.5" x 3"

Does not include vehicles, figures, sea wall, or scenery...