U.S. ORDERS ONLY Bandit's Roost - HO Scale Kit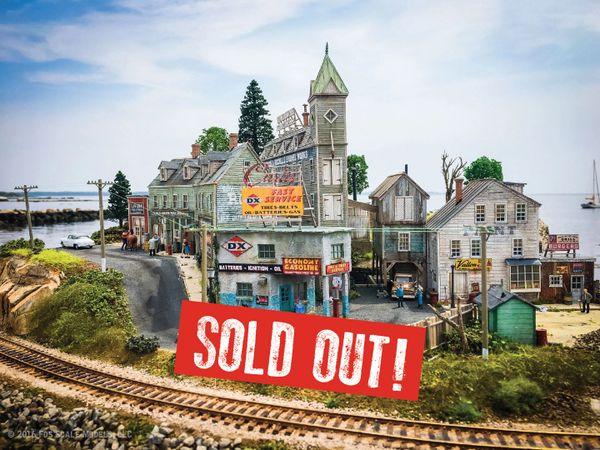 U.S. ORDERS ONLY Bandit's Roost - HO Scale Kit
BANDIT'S ROOST IS SOLD OUT!!!!!
Welcome to Bandit's Roost...our 15th Anniversary Limited Run Kit! 

Wind your way up narrow alley ways and around tall, imposing architecture. Bandit's Roost as a concept is based on a 19th century photo of the same name, featuring a seedy alley in New York City. From this our latest limited run kit was born.
Eight structures are included, large and small - all can be built as stand alone buildings! They can be built on a hill as shown or completely flat.
The main structure is a flat iron shaped mill, Harrison & Rochelle Enamel Works- 5" x 10" . It features a distinct tower and a shingled mansard roof. We made our appear even taller by placing it on a hill. The building also features a multi window boiler house, laser cut roof top sign, roof access shed. 
Harrison & Rochelle also features an annex building connected by a covered sky conveyor and raised up on timber posts. This is a combination of scribed wood walls, clapboard and board by board , topped with a corrugated roof. Annex - 1.75" x 4.5"
To the right is  Vallon Paint  - 3" x 3.25". This is based on an actual building in New York from the 1800's. It was also seen as part of the set design in the film Gangs of New York. 
Next to Vallon Paint is the Hole in the Wall Burger joint - a wedge shaped, corrugated metal panel covered building to help feed the denizens of Bandits Roost. 1.75" x 3".
At the bottom of the hill is a stucco covered DX Gas Station 2.5" x 3.25" , it's two story design allows for a covered gas pump area. It features a nicely detailed plastic visible gas pump kit from Tichy. 
As we make our way up the hill, the angled clapboard structure houses Callahan Machine Shop, some apartments and an alley only entrance to the Rooster Bar. 2.5" x 9".
At the end of the block is a small Livery Stable, M. Erickson - 1.75" x 3.5"  This little stable serves a few horses that work the area. 
Lastly there is a small utility shack 1" x 1.25".
Overall diorama as shown is 28". The kit features laser cut walls, plastic windows and doors from Tichy. quality Northeastern Scale Lumber, our own metal detail parts, color signage, plastic details, laser cut sidewalks, corrugated paneling, detailed assembly and weathering instructions. 
LIMITED RUN!
These kits are made as special orders - meaning yours is being made for you. Cancellations are only valid one week after order is placed. 
Only 150 kit will be made - don't wait to order, many of our Limited Run kits sell out within a week of release.
DOES NOT INCLUDE: Figures, horses, vehicles, scenery, sewalls, stone walls or telephone poles.
Kit begins shipping OCTOBER 15, 2017. Note that your card is charged immediately upon ordering to guarantee your kit order.  We spend the next two months producing your kit. Once shipping begins in October you will receive an email notice with tracking.
There will be more photos posted on our Facebook page.