Kit of the Month Club - 6 Month Option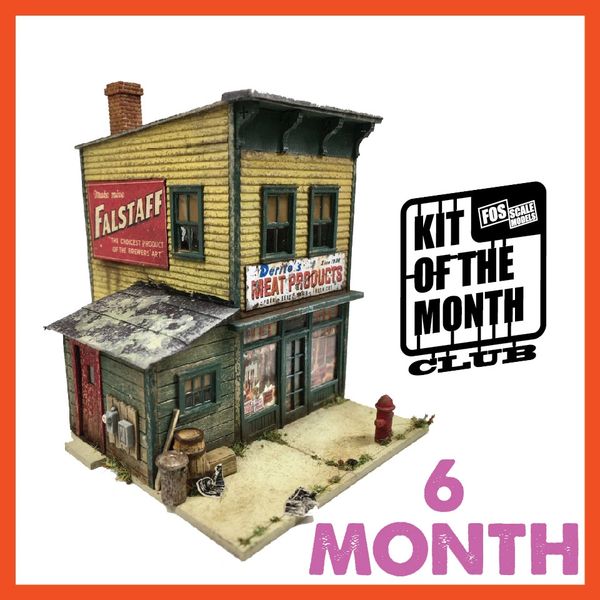 Kit of the Month Club - 6 Month Option
Welcome to the Kit of the Month Club! - 6 Month Option  - U.S. Only
******Your subscription starts on the 15th of the month you place your order, and with the new kit released that month - not previous kits******

In the Fos Scale Models Kit of the Month Club, you'll receive a new HO scale kit every month to keep you busy at your workbench, populate your layout and keep refining your modeling skills. Each month brings a new kit design valued at $34.95 with an approximate footprint of 3" x 3" , making for a model you can finish quickly and be proud of. You won't be able to get these kits any other way, tehre are exclusive to the Kit of the Month Club. Designs will vary from Main Street to waterfront to trackside, making for a variety of structure types and uses. The first kit Derito's Meat Products, will be shipping in January.

Features:
(1) New HO Scale kit valued at $34.95 shipped to you every month for duration of plan.

Free Shipping on Kit of the Month Kits (U.S.Orders Only) 

Exclusive kit designs only available through club. These will not be for sale any other way.
15% off retail value with 12 Month Option - $419.40 value discounted to $356.00

Kits will include lasercut parts, plastic windows and doors, metal detail parts, color signs and detailed instructions.
January 2019 K1 - Derito's Meat Products
February 2019 K2- Seckler's Marine Supply

Please read:

-The first kits begin shipping January 2019, you will receive a new kit the first week of every month of your plan.
-Payment is in full for entire plan at time of purchase. This is a special order, so purchase is non-refundable.
- U.S. Orders only, sorry. International shipping makes it cost prohibitive.