U.S.A. ORDERS / Dead Horse Bay - HO Scale Limited Run Kit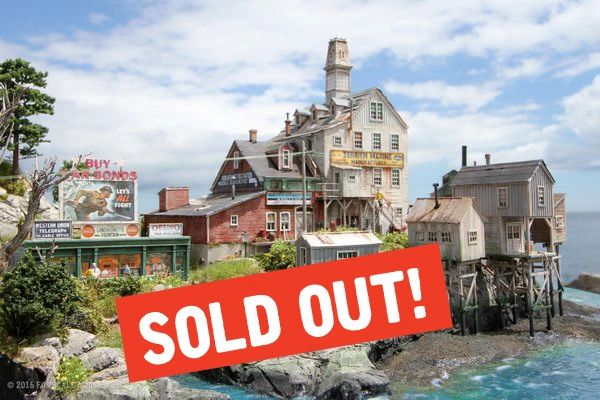 U.S.A. ORDERS / Dead Horse Bay - HO Scale Limited Run Kit
 ALERT: THIS SELECTION IS FOR U.S.A ORDERS - PLEASE SELECT CAREFULLY OR YOU WILL OVERPAY SHIPPING, OR UNDER PAY AND YOU WILL HAVE TO REORDER. Please read in entirety to be informed about purchasing, shipping dates and limited run policies.
Welcome to Dead Horse Bay!
During the nineteenth century, the desolate bay, far from the cities and towns was used as a dumping ground for animal carcasses and rubbish. Eventually much of it was filled, making way for industry. 
Today, the real Dead Horse Bay exists in Brooklyn, NY and did serve the purpose of the cities garbage disposal site, including many animals - mainly horses, which were in great number when they were the sole source of transportation. It's beaches today can be scoured for 200 year old relics, constantly emerging from the eroded beach head.
This years kit was inspired, in name, by the real locale in Brooklyn. It provides us with another waterfront scene that we're always happy to model. But, if your not modeling waterfront, it can be easily be made to fit a land locked or river scene, just leave out the pilings on the smaller structures and create an entirely new scene of your own. And though we modeled it with a small hill, you can easily model it on the flat.
 The kit features the main structure, Terrien Marine and second, attached structure Horvath Refrigertion as well as a triple storefront structure including Western Union, a luncheonette and a tobacco/news shop. The kit also features a boiler house for Terrien Marine with a covered coal bin. Additionally there are three shacks that sit on pilings overhanging the waters edge, and one smaller shack. Altogether, seven structures.
The kit features laser cut wood walls, plastic and laser cut doors and windows, metal cast detail parts, color signage, rolled and corrugated roofing, shingles and detailed templates and assembly instructions.
Terrien Marine - 4.5" x 6"
Terrien Marine is a mill type building and is the largest structure in the bunch and features a neat wrapped fire escape system using stairs and a ladder that intrudes on the neighboring building, Horvath Refrigeration. The structure includes smaller dormers, a loft dormer with hoist, architecturally detailed tower, recessed loading dock and ramp, rear loading dock for rail traffic. It is connected to a boiler house via steam pipes and includes a covered coal bin.
Bolier House - 2" x 2.5"
This boiler house supports the main mill building via pipes and is fed by coal from the coal bin. The structure is clad in corrugated paneling.
Horvath Refrigeration- 5" x 6"
This gabled and angular structure houses a refrigeration specialist. The structure includes a "copper"finished cornice, dormers and gives over rights for the next door mill's fire escape.
Storefront; Western Union / Luncheonette / Optima Tobacco - 3" x 6" 
This collection of storefronts provides some commercial services for the neighboring mill and businesses. It features a laser cut storefront with printed interior photos so they don't appear empty. The roof includes store signage as well as a roof top War Bonds billboards with laser cut lettering
Four Shacks , from left to right, 1"x 2"/ 1.25" x 2.25" / 1.5" x 3.25" / 1.25" x 3"
These for shacks include pilings so that they can hang over your waterfront's edge.
____________________________________________________________________________________________

LIMITED RUN!
Only 150 kit will be made - don't wait to order, many of our Limited Run kits sell out within a week of release.
DOES NOT INCLUDE: Figures, vehicles, scenery or telephone poles.
Kit begins shipping September 15, 2016. Note that your card is charged immediately upon ordering to guarantee your kit order.  We spend the next two months producing your kit. Once shipping begins in September you will receive an email notice with tracking.
THE FIRST 15 - We have created a Special Edition just for collectors; the first 15 kits ordered will come in the same box but have an engraved box lid instead of our standard paper printed label. The list of 15 will be posted on our Facebook page after those orders come in.
There will be more photos posted on our Facebook page.