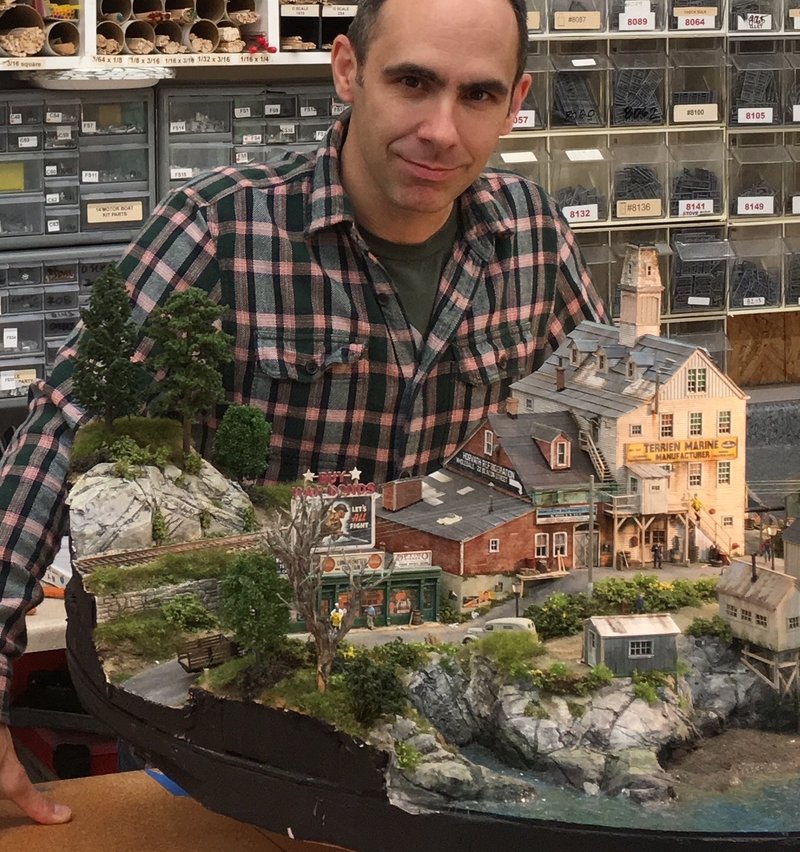 We have been producing model railroad structure kits since 2002, starting with the release of Big Lou's Grill. Since then we have strived to live up to that unique little kit, by offering original, uncommon designs. Our kits include in-house, precision laser cut parts and metal cast detail parts along with high quality plastic architectural parts from Tichy and wood from Northeastern Scale Lumber. 
Fos Scale Models is owned and operated by Doug Foscale. Doug was born and raised in New York City and followed an art education in architecture and graphic design. He also finds creative outlets through painting, photography and video. Doug now lives in Connecticut with his wife Amy and their three horses.
In 2017 we started a military modeling site, Diorama Blitz featuring 1/35th Scale hydrocal diorama kits. Check it out here.
The Fos Scale Models studio is located in South East Connecticut.  We often hold workshops to share our techniques of model building, weathering and detailing. Check back often for the next workshop.
Frequently Asked Questions
Can I use Visa/ Mastercard/ Amex/ Discover?
Yes. Our orders are all processed via Paypal, but this does not mean you need a Paypal account. Proceed through the checkout process and select the pay by PayPal button. You will get to page where you can choose either to use your PayPal balance OR use a credit card of your choice. If you have any questions or problems, just let us know. Look at the photo example below; when you see this screen,  choose the grey box to use your credit card.
Are these kits easy to build?
Yes, we believe they are. They are not the snap together type however; that's where the craftsman part of craftsman kit comes from. These kits are mostly wood, laser cut parts that need to be assembled with some amount of care and skill, but nothing you couldn't do with just a bit of patience and practice. If you take each step one at a time, you'll do fine. And, each kit is just that practice to make the next one better. You'll make plenty of mistakes along the way, but that's how you learn.
How long does it take to build one?
Of course this varies from modeler to modeler, but for example, a one car garage can take you one night to build, a medium sized kit will take a week, chipping away at it each night. The big kits can take weeks. But that's the value in this type of modeling, it provides hours of entertainment with a satisfying finale. The most time consuming aspects are simply waiting for parts to dry, but as you progress you'll learn to multi-task during drying times, and assemble other parts while you wait.
Why do we make craftsman kits?
There are many reasons, but chief among them is an attempt at historical preservation. As all of our kits are designed with a mid-century mindset, it's a great opportunity to portray that which has been lost through the years. While fractionally smaller, three dimensional miniature representations of the past are as valid and important as text, painted canvas, sculpture and photographs. With that in mind we do regard craftsman kit and diorama building to be a form of art, rich in expression, style and composition.
Are your kits prototypical?
Not if we can help it! Occasionally we'll recreate an existing real world structure, but typically each design is made up of several aspects of different buildings, with lots of creative license in-between. 
What if I screw up a part from a kit?
Well, firstly, it means you learned something new, so that's a good thing. Secondly, just shoot us an email and we can get a new part out to you.
What's the difference from Limited Run kits and Standard Kits?
Limited Run kits are just that, limited to about a run of 125 units. We release at least one these a year, typically in the Fall. And no, we don't rerelease them at a later date - once they are gone, they're gone for good. Often they sell out within a week of release and can they be found on the Ebay market for quadruple the price. So don't miss out once one is released!
Our standard kits are always available. 
How do I know when new kits are released?
Sign up for our Email Newsletter and you'll get updates on kit releases. You can sign up by finding the sign up box found at the bottom left of every page on our website.
Do you have a Blog? 
We do, You can find it here: BLOG
Can we visit the Fos Scale Models studio? Where is it?
You can if we're not busy, you'd just need to call ahead. We also have workshops throughout the year in our shop, stay tuned for those. Click here for Workshops
As of January 2018, we've moved to a new location. Please note our new phone number 860-389-5659
When did you start making kits?
Back in 2002. The first kit, the Limited Run Big Lou's Grill, was released in September of that year.